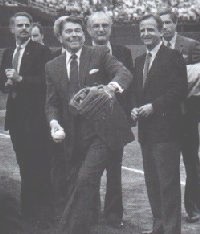 Ok, I procrastinated long enough. Here is my story on Ronald Reagan the sports fan:
"(baseball is) our national pastime, that is if you discount political campaigning." –Ronald Reagan
Ronald Reagan was a baseball & Sports fan. Oh yeah, he was also the greatest President this Country has seen in my lifetime…maybe ever. But, this is a story looking back on some of Reagan's baseball & Sports related attributes.
In 1928 Reagan graduated from Dixon High School. He served as student body president and participated in football, basketball, track, and school plays. Why not baseball? Well the former President said it best himself, "I never cared for (playing) baseball... because I was ball-shy at batting. When I stood at the plate, the ball appeared out of nowhere about two feet in front of me. I was always the last chosen for a side in any game."
Reagan was a radio sportscaster for WHO Radio out of Des Moines, Iowa during the 1930's. At the time In his early 20s & going by the monicker "Dutch" Reagan, he eventually did re-creations of the Chicago Cubs games. WHO, an NBC affiliate, gave Reagan national media exposure.
As he was covering the Cubs, his profession took him to Los Angeles. In 1937 he took a screen test and landed a gig at Warner Brothers. Reagan's Played a dying George Gipp in
Knute Rockne, All-American
in 1940 in what is probably his best-remembered role. The late president was forever known as "The Gipper," and the phrase "Win one for the Gipper."
Reagan also played Hall of Fame pitcher Grover Cleveland Alexander in
The Winning Team
, a 1952 movie that also starred Doris Day as his wife. According to the Baseball Almanac, "Ronald Reagan was well known for his improvisation he did in 1934 when the wire went dead during the ninth inning of a scoreless Cubs versus Cardinals game. He shared that story as well as his love for his portrayal on the big screen of Grover Alexander in many public appearances & speeches. That movie also included former major leaguers Gene Mauch, Hank Sauer, Peanuts Lowrey, & Bob Lemon…just to name a few. Actor Tip O'Neil years later recalls a story: "He's sitting over there (by his desk in the Oval Office) and says, 'Hey Grover Cleveland. I played him in the movies.' I said no, you played Grover Cleveland Alexander, the baseball player."
His love of baseball led him to throw out the first pitch at several Baltimore Orioles games. He attended four games as President. In his first in 1983 Reagan was not allowed to throw out the first pitch due to "security reasons." He made up for it later though…in 1988 he threw out TWO first pitches before one game & broadcast 1 ½ innings in the booth. On April 2, 1984 he not only threw out the first pitch of the White Sox/Orioles game, he watched the entire game from the dugout. In 1989, months after leaving office, Reagan did a few innings of commentary with Vin Scully on the All-Star Game telecast, even calling a home run by Bo Jackson.
On May 27, 1981 Reagan had lunch with 32 Hall Of Famers at the White House. Of the visit Joe DiMaggio said at the time, "I think the President enjoyed this visit even more that we did." Reagan followed that up two years later in 1983 by holding a MLB Old-Timers game on the White house Lawn.
Reagan kept up an old Presidential tradition by having teams come visit the White House. But Reagan often took these visits to new levels…and none was more Reagan-like than when the Washington Redskins visited shortly after they won the 1988 Super Bowl. He seeked out Redskins star receiver Ricky Sanders and connected with him on a perfect pass as Sanders was streaking to the "post." Reagan was 77 years old at the time!
Reagan signed a proclamation while President naming May of 1983 National Amateur Baseball Month.
Reagan was and is a true American Icon. He is a president that will never be forgotten & should always be remembered. I know there is legislation in the works to put his likeness on either the dime, the $10 or $20 bill. I just don't know if that is enough to remember a man who gave so much of his life to making life better for so many people. Whether it be re-creating the broadcast of a baseball game, serving his country by making over 400 training films during the war or by leading this nation, Ronald Reagan should be remembered forever.