All I want for Christmas is....A Bowling Alley?
Hey Mom! I know what you can get me for Xmas. All it costs is 1.45 Million bucks. Neiman Masrcus came out with its fantasy catalogue again this year. The bowling alley tops the list for me!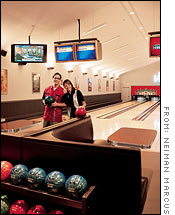 "This year's gift assortment is more innovative and luxurious than ever before and is available in its entirety online," Hoffman added.
Yes, that even includes the his-and-hers bowling center.
The 5,000 square-foot, four-lane bowling and entertainment center includes all the bowling equipment, his-and-hers bowling shoes, a multi-media system with two large-screen plasma TVs, and a karaoke machine. The package also offers lessons from professional bowlers.