Wireless Trucker is also a PhotoBlogger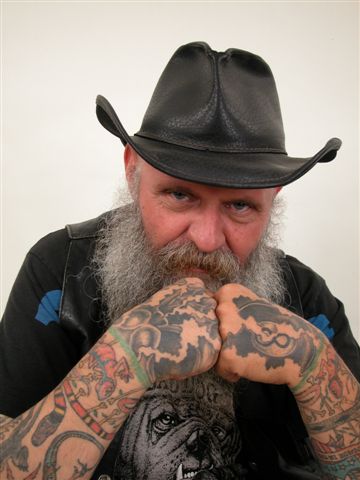 When Tom Wiles steers his "bulldog" (Mack truck) off the "big slab" (I-20) and into the Dallas Flying J Travel Plaza, chances are it is not a great "eat-em-up" (diner) he's seeking.

No, Wiles and thousands of other cross-country truckers increasingly are dropping their CB 10-4's for the 802.11's -- wireless Internet connections right to their truck cabs. And major truck stops, including some in Indianapolis, have found that Wi-Fi is becoming as vital to their clientele as diesel fuel and hot showers.
Many long-haul truckers like the 49-year-old Wiles have outfitted their rigs with an arsenal of electronic gadgetry. "I'm living stretches of five days in the truck, which is fine -- as long as I can have all the conveniences of home right there in the cab," he says.

To that end, Wiles carries a Toshiba laptop equipped with a Wi-Fi card and subscriptions for access points at Flying J truck stops across the country. Flying J's currently blanket 180 of their North American locations with Wi-Fi signals, including truck stops in Indianapolis and Whiteland.
But that gets a trucker online only when he's fueling up or sleeping at a service center. For connectivity out in the sticks, Wiles has subscribed to Sprint's PCS Vision cellular nationwide network.
For phone calls, Wiles has jettisoned his home landline and now uses his cell phone for voice communication. For on-the-road entertainment, he can burn discs on his home entertainment system's DVD recorder, then pack them up for viewing in the cab on his laptop. For music, Wiles has subscribed to XM satellite radio ($9.95 per month) and purchased a portable Delphi SkyFi receiver that works in his home system as well as the truck cab.
And for a hobby, Wiles has begun taking still digital pictures with his 3.2-megapixel Toshiba PDR-M71 and video with a digital camcorder.

Trucking can be a lonely road, and being constantly online has helped Wiles stay in touch with far-flung friends and family. About a year ago, Wiles discovered his hyper-connectivity also could spawn new conversations with perfect strangers.

Wiles set up a Web site (www.truckerphoto.com) to display some of his digital artwork and perfected a way to update it from the road. Since then, it has blossomed into a trucking blog of his daily travels, an advice center for other digi-truckers, a repository of roadhouse restaurant and motel reviews and a showcase for his humor and conservative social commentary.