The Star of Stand up Comedy and on of the funniest movies I've ever seen, Caddyshack, Died at the age of 82. Everyone should go out this weekend and rent a Dangerfield movie...or watch a stand up clip...to remember the great comedian.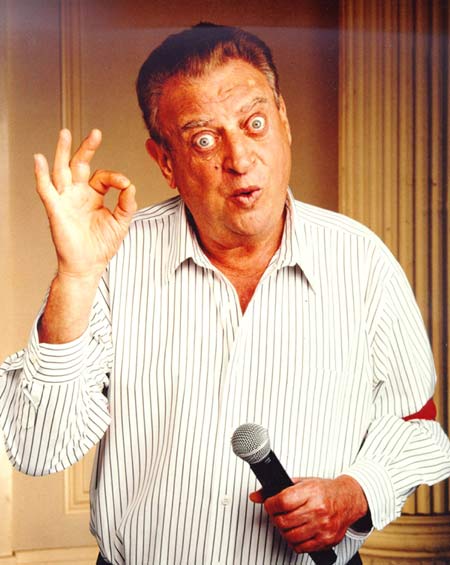 Rodney Dangerfield, the bug-eyed comic whose self-deprecating one-liners brought him stardom in clubs, television and movies and made his lament "I don't get no respect" a catchphrase, died Tuesday. He was 82.
As a comic, Dangerfield -- clad in a black suit, red tie and white shirt with collar that seemed too tight -- convulsed audiences with lines such as: "When I was born, I was so ugly that the doctor slapped my mother"; "When I started in show business, I played one club that was so far out my act was reviewed in Field and Stream"; and "Every time I get in an elevator, the operator says the same thing to me: 'Basement?"'
His film debut came in 1971 with "The Projectionist," which he described as "the kind of a movie that you went to the location on the subway." He did better in 1980 with "Caddyshack," in which he held his own with such comics as Chevy Chase, Ted Knight and Bill Murray.
Despite his good reviews, Dangerfield claimed he didn't like movies or TV series: "Too much waiting around, too much memorizing; I need that immediate feedback of people laughing."
Still, he continued starring in and sometimes writing films such as "Easy Money," "Back to School," "Moving," "The Scout," "Ladybugs" and "Meet Wally Sparks." He turned dramatic as a sadistic father in Oliver Stone's 1994 "Natural Born Killers."
In 1995, the Academy of Motion Picture Arts and Sciences rejected Dangerfield's application for membership. A letter from Roddy McDowall of the actors branch explained that the comedian had failed to execute "enough of the kinds of roles that allow a performer to demonstrate the mastery of his craft."
The ultimate rejection, and Dangerfield played it to the hilt. He had established his own Web site ("I went out and bought an Apple Computer; it had a worm in it"), and his fans used it to express their indignation. The public reaction prompted the academy to reverse itself and offer membership. Dangerfield declined.
"They don't even apologize or nothing," he said. "They give no respect at all -- pardon the pun -- to comedy."